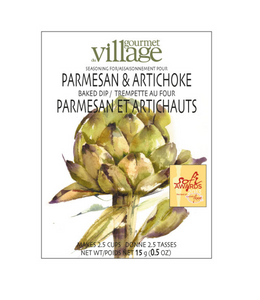 Parmesan & Artichoke Dip Mix
SOFI Award Winning Product.  Just add cream cheese, sour cream and a can of chopped artichokes, mix, bake and serve.  Fresh from then oven, the richest and tastiest dip ever with melted cheese on top, ready to enjoy with crusty bread or crackers.  
Check out the Gourmet Village Electric Dip Warmer to keep it warm.