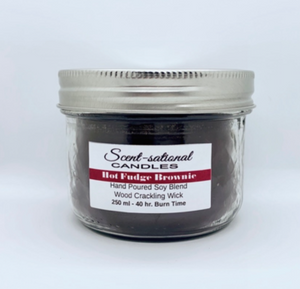 Scent-Sational Candle | Hot Fudge Brownie
Hot Fudge Brownie- Rich and sweet chocolate aroma.
All Soy/Blend Wood Crackling Wick Candles are created in my home in small hand poured batches, taking great pride in quality and appearance for each uniquely crafted product.  The candles are made with high quality Soy/Blend Wax and Fragrances, each with the Wood Crackling Wick.  Light your Candle and enjoy the "soothing" Crackling Wick sound (it's like having a little crackling fire burning in the background). 
Approximate burn time for each 8.4 oz Jar is 35 - 45 hours
Made in Wakaw, Saskatchewan!