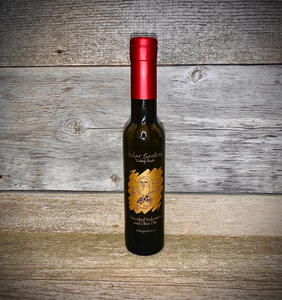 Cranberry Dark Balsamic Vinegar
All of our dark balsamic are naturally flavoured. No added sugars, sweeteners, glutens, colouring, or thickening agents. They only contain naturally occurring sulfites and no added or re-introduced sulfites.

Our balsamic vinegars contain
no added sugar
– they're a combination of 80% grape must and 20% red or white wine vinegar. The flavourings also do not have added sugar and are all natural. The reason most people assume there is added sugar is because of the thick viscosity and the sweet taste. We accomplish that by using more 'must' (our competitors use between 40% to 60%). This costs more money for us to buy but it makes for a better product.
This Balsamic Vinegar is made locally at Pike Lake Saskatchewan!